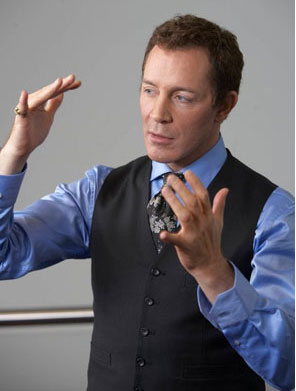 Dr. Eric Pearl is the founder of Reconnective Healing and the Personal Reconnection. Dr. Eric Pearl was running a succesful chiropractic practice in Los Angeles when a series of unusual occurrences led him to realize that his gift lay far beyond the realm of spinal adjustments. Patient after patient began reporting healings form cancers, epilepsy, cerebral palsy and other severe health conditions, simply when he held his hands near them.
This proved to be something far beyond al kind of healing modalities we have known before. A completely new spectrum of not only energy, but mainly light and information, helping us to heal and evolve. The Reconnective Healing spectrum.
Dr. Eric Pearl has written an internationally bestselling book "The Reconnection: Heal Others, Heal Yourself" and has been featured in top media (such as CNN, The Dr. Oz Show and New York Times). He now travels around the world to teach how to work with these frequencies.
Reconnective Healing en the Reconnection has been and is studied by scientists around the world, with remarkable results.
It is called "The cutting-edge of information medicine" by Stanford Professor Emeritus Dr. William Tiller.
Reconnective Healing has been scientifically shown to:
Restructure damaged DNA
Be more then twice as effective as physical therapy in restoring range of motion
Support athletic peak performance
Amongst other, these scientific studies include studies of
The University of Arizona (USA)
Dr. Konstantin Korotkov (a Russian scientist who studied the performance of Russian Olympic athletes after having been in contact with the RH frequencies), who wrote a book about it:  Science Confirms Reconnective Healing.
PhD William Tiller: as mentioned above. An American scientist who developed instruments to mesure subtle energies. The results of his tests are also mentioned in the book "The field", by Lynne McTaggert and in the film "The living Matrix".
Reconnective Healing en de Reconnection kunnen geen eisen, beloftes of garanties waarmaken. Ook worden er geen medische diagnoses gesteld en er worden geen specifieke gezondheidsproblemen als zodanig behandeld. Je bent ten alle tijden zelf verantwoordelijk voor het toezien op en de voortzetting van jouw eigen medische behandeling en zorg.