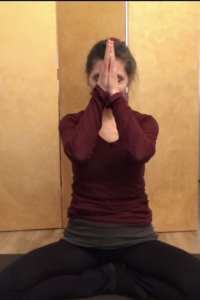 Yoga is awareness, being present in your body, feelings, emotions and thoughts.
Yoga is not about necessarily being able to do a headstand or forcing yourself into impossible postures. It is not about performing, but about relaxing and receiving.
This keeps the body healthy and vital, brings feelings and emotions in balance, stills the mind and nourishes the soul.
My style of teaching is focused on balancing Yin and Yang in various ways. And on awareness, insight, health and balance in uniting body, mind and soul.
More and more the richness of Yin Yoga and its connection with meditation and TCM is the basis from where I teach. Also in combination with Restorative Yoga.
Relaxation
Reduction of stress
Conscious and deep breathing
Increasing blood flow
Strengt and flexibility of muscles and joints
Concentration and clarity
Deeper sleep
Increase in body consciousness (awareness of boundaries and possibilities)
Better digestion (supportive in losing weight)
Hormone balance (also see Yin Yoga)
Being happy and content for no reason
Yoga is for everybody! Young, old, thick, thin, woman, man, flexibel, stiff, it really does not matter.
It is not about perfect performance. But about practicing with awareness, with respect for the boundaries and possibilities of your anatomy, energy and state of being in every moment.
The Lessons & Workshops take place in small groups. This ensures time and space for personal coaching during the group lessons and workshops.
Coming from a background in TaiChi, Qigong and Meditation I became naturally more attracted to Yoga. Once I started to practice it, I immediately felt a deep "coming home". This is me and my way of life!
In 2010 I graduated from a 3 year hatha yoga teacher training and started to give lessons and workshop.
I have a passion for consciousness, natural ways to heal and balance body, mind and spirit and how the principles of Yin and Yang operate in ourselves, life and the universe.
This brought me to Yin Yoga. To me the most professional and inspiring teacher in this field is Sarah Powers. I have attended various workshops with her. I completed a certified teacher Level I training Yin/Insight Yoga with her in 2011 (50 hrs YA) en 2012 (100 hrs YA). And in 2017 also her new Level II training (30 hrs YA).
For me Yoga is timeless wisdom that invites to always learn more and go deeper. So I always keep learning and growing. Apart from teaching, self study and life experience. I keep attending lessons, workshops and trainings with various teachers, mainly in the field of Yin and Yin Yang Yoga and recently also Restorative Yoga and Yoga Nidra. The ones that inspire me the most are Sarah Powers, Skadi van Paassen, Simon Low, Ulrica Norberg. I am planning to also study Restorative Yoga with Veda Ela.