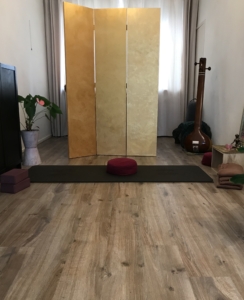 Yoga private lessens for more one on one coaching. Custom made especially for what you need and at a time that suits you best.
To learn yoga poses, breathing and meditation in a proper way from the beginning or getting specific guidance for your specific needs.
Especially Yin Yoga provides a lot of tools and insights that you can easily use yourself at home to support yourself.
For many clients it has been proven that combining one ore more yoga private lessens with one or more Reconnective Healing sessions profoundly accelerates balance and healing.
A yoga private lesson (60 minutes) costs €65.
I give several weekly classes in (combinations of) Hatha, Yin and Restorative Yoga.
These lessens all have their roots in Hatha Yoga and Yin Yoga, but have different accents. In different flavors they always consist of these basic elements:
Balance between Yin and Yang
Yin: working on flexibility of muscles and joints
Yang: working on strength of muscles
Effect of postures on energy flow, meridians and organs
Using your breath
Meditation and mindfulness
Relaxation
For locations, dates and times see Agenda.
I regularly teach Yin or Yin and Restorative deepening workshops.
For dates and more information look at Agenda